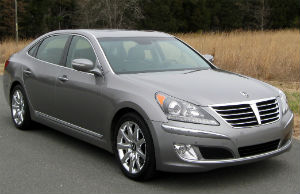 Another Hyundai recall
Hyundai announced a new recall, in a long line, that has been plaguing the company in recent months. The latest recall affects 43,000 Hyundai Genesis models, including the luxury Equus model.
Which Cars Are Affected?
This recent recall states that Genesis models manufactured between 2009 to 2011 model years and the Equus 2011 models have brake lights that fail to illuminate, thereby causing a safety hazard. The effected part is a relay switch which creates and signals the brake light to illuminate. When it fails to work properly, the chance of rear end accidents is inevitable.
On Tuesday, December 9, 2104 Hyundai posted an announcement by the National Highway Safety Administration, stating that they had contacted Hyundai about complaints regarding the lights. Consumer complaints in the month of October regarding Hyundai Genesis models and the brake light problem brought the issue to light. However, there have not been any accidents or injuries regarding the safety issue as mentioned.
What Honda Will Do If You Affected
Hyundai dealerships will repair the lamp switch circuit, which is responsible for the signal relay between the brake pedal and the light circuit, beginning early in 2015. These repairs will not cost consumers. The effected Genesis models were made starting in April 2008 until November 2010. The Equus models were manufactured between July 2010 and November 2010.
Hyundai owners of the effect models should begin getting notices in early 2015. If you own one of the models in question and don't receive a notice, it is recommended you contact your local dealership to set up repair.