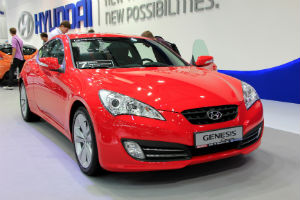 Hyundai Recalls
Hyundai has issued a press release on the latest General Motors recalls. Here's the press release. Between the end of October 2013 and July, 2014, Hyundai has issued three recalls for more than 419,000 vehicles from problems with the suspension, brakes and oil leaks. The largest of the three recalls was issued on July 25th for 225,000 Sante Fe SUVs manufactured from 2001 to 2006. The Santa Fe recall is to replace the front coil springs, which can rust and crack in states that experience cold weather. If the springs fracture, they can come in contact with the tire and potentially cause a crash.
Santa Fe Recalls & More
The recalls for the Santa Fe SUVs are for those that were originally sold in Washington, DC and 20 states where salt is used to clear ice and snow from the roads. In documents posted by the NHTSA, Hyundai stated that the dealers will replace the springs at no cost to the owners and they will be notified by the end of September. The company has received 1200 warranty claims relating to this problem, which included 90 where the springs came in contact with the tire. See here for NHTSA report on recalls and defects that includes Hyundai.
Hyundai is also recalling 133,075 Sonata cars that were manufactured in 2011, because the brake fluid may leak, which can lead to an increase in stopping distance. The leak is caused by a defective seal between the calipers and the brake hoses. The repairs,when done by a dealer are free of charge and will begin by the end of September.
Hyundai has also issued a recall for 61,122 Veracruz SUVs that were manufactured from 2007 to 2012. The recall is due to the risk of an oil leak from the valve cover gasket, which can leak onto the alternator and cause it to fail. If the alternator fails, it can cause the engine to stall and the driver will not be able to restart the vehicle. Repairs for the leak will begin by the end of September and there will be no charge to the owner for the repair or replacement of the front valve cover gasket and/or the alternator.
Fines To Pay
Although Hyundai has been required to pay over $17 million in fines as a result of corrosive brake problems and the expense to repair or replace all of the parts relating to the recent recalls, the company is still committed to provide their customers with a safe vehicle. Many consumers may be slightly apprehensive about purchasing a Hyundai due to the vast amount of recalls over the previous few years. However, the majority of Hyundai customers are dedicated to the brand, so the only effect the recalls may have on the brand is the expense of the recalls.