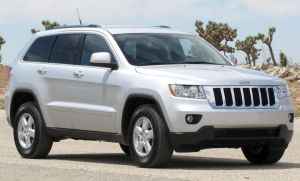 Jeep Recalls
The Jeep is once again on the recall list. The 2014-2015 Jeep Cherokee SUV is being recalled worldwide after several incidents of airbag deployments due to a problem with the software that controls the side-curtain and seat-mounted side airbags. The inadvertent airbag deployment apparently occurs primarily after drivers attempt extreme maneuvers. FCA US said the recall includes 228,181 Jeep Cherokees worldwide. The majority of the recalled vehicles are in the United States, while the remaining recalled Cherokee vehicles are located in Canada, Mexico and in other areas outside North America.
What's The Problem?
The problem with the airbag deployment is not actually with the airbags themselves, but in the software, which triggers the deployment after a driver "executes an extreme hard-handling maneuver." This upsets the vehicle's balance, making the software think that a rollover crash has occurred, when in fact no crash of any kind has actually happened.
In the February 2, 2015 "Restraint System Software Upgrade" press release, FCA stated that the extreme maneuvers "dramatically changed the vehicles' angle of operation, relative to the ground." This results in the software glitch that reacts in response to the actions of the driver.
What's The fix?
Once the affected recalled vehicles have received the upgrade that will correct the automatic deployment in absence of a rollover crash, the recalled 2014-2015 Jeep Cherokees will remain compliant with all other safety-related regulations.
Affected Jeep owners will receive notice from the company and the software upgrade will be immediately available upon receipt of the notice.
Other recent Jeep recalls
The Cherokee is not the only recent Jeep recall. Certain models of the 2012-2014 Jeep Grand Cherokee were recalled in October 2014 due to a faulty alternator issue. Nearly 434,600 vehicles were affected by the recall.
Certain 2011-2013 Jeep Wranglers were recalled in October 2014 due to an electrical short that increased the risk of fire. Motor Trend also reported on recent recalls of certain 2010-2012 Jeep Compass and Jeep Patriots. The June 2013 recall involved a software error that could potentially lead to either "delayed deployment or non-deployment of the seatbelt pre-tensioners and/or side airbags." This could lead to possibility of increased risk of serious injury in event of a crash.
If your Jeep is on recall and you did not receive the proper notice or if you have questions, contact FCA directly 800-853-1403.