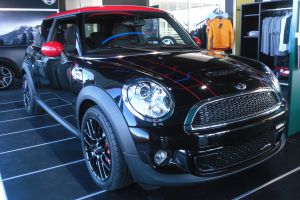 Mini John Cooper Review
The Mini John Cooper comes in two models, the Cooper two-door hardtop and the four –door hardtop cars. These mini John Cooper vehicles have unique designs and excellent performance as is common with the other John Cooper Works Pro design line. Behind these attractive qualities of the two and four-door, mini coopers are the retrofit apparatus for the interior, drive-train and aerodynamics. All these components have been made with great expertise hence distinguishing it from its earlier models.
The Ins & Outs of The Mini John Cooper
The aerodynamic components comprise of a rear diffuser that has fins and lateral splitters and a spoiler that help to make the aerodynamic features more efficient. The exterior gives the buyers the choice of using personalized mirror caps, decorative rings for enhancing the headlights and taillight background, as well as a side turn indicator, surrounds referred to as the side scuttles. The roof the Mini John Cooper car can be of the Union Jack design and as well as the side decoration. The side of the car has also been marked with the start number 37 in support of the World Rally Championship.
The design of the car's interior is equally thoughtful and exceptional. The John Copper Works Pro company has fitted the door sills with the LED lighting that uses the latest technology and thus they are quite efficient. There are also floor mats, and both the rear window and rear side windows have sunblinds.
The Mini John Cooper car can be decorated using the Vivd Green accessory design line that entails contrasting green designs with the black color of the car giving the car a unique look. You can either have the designs done on the roof, mirror caps, turn indicators or side stripes on the outside. In the interior of the car, The Vivid Green design line is best suited for the interior mirror cap, door sill, floor mats, as well as the sun blinds for the rear windows. The Mini John Cooper also comes with Mini Junior Seat that has been designed in three styles to suit the height of the child that will be travelling in the vehicle.
Decor Deluxe Features
Additionally, there also other unique designs for the roof graphics, auxiliary headlights, wheels and the mirror caps to choose from for your Mini John Cooper vehicle. The manufacturers have also included additional Travel and Comfort system that comprises of accessories for smartphones and music players like adapters and model-specific holders. Other accessories include a Cooper S two- door with a John Cooper Works tuning kit with an adjustable flap for the exhaust silencer, Jet Blacklight alloy wheels and tailpipe covers attached on to it.
All these are the decorating options and accessories that will be at your disposal as a buyer, and you will be able to have the car decorated and accessorized to your liking.