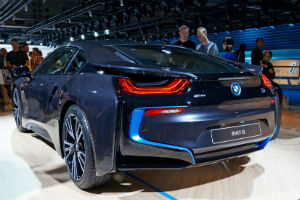 5 Cars Worth Waiting For In 2015
With the New Year comes many anticipated new cars. From great lines to powerful motors, cars are becoming more innovative and manufacturers more ambitious. Already, 2015 is looking like a great year for car enthusiasts. From reimagined models with improved designs to classic favorites, there's something everyone will love. Here are 5 of the most anticipated new cars for the 2015 season:
Top 5 Worth The Wait Cars
1. Alfa Romeo 4C
The Italians are back with another beautiful and exotic sports car! Alfa Romeo has made a much-anticipated return to the United States with the 4C. It's powerful, turbocharged four-cylinder engine is surrounded by an aluminum and carbon fiber chassis. The car is built for performance and boasts the ultimate driving experience embellished with European flair.
2. Ford Mustang
This beloved muscle car icon is back with a wider stance and lighter body. One of the most anticipated aspects of the 2015 model is the option to choose from a few different engine options to maximize your fuel efficiency without compromising performance. It's still one of the best cars to hit the open road with and with Ford's EcoBoost engine, nothing can stop you.
3. BMW i8
This highly anticipated vehicle from BMW is a tour de force in modern amenities and sleek design. The three cylinder engine is turbocharged and is coupled with an electric motor. It's an electric car that offers almost 360 horsepower for maximum performance and minimal emissions. See edmunds.com review of the car.
4. Lexus RC F
This car is both beautiful and intimidating. The bold RC F pumps out 450 horses and over 380 lb-ft of torque. Its performance prowess is enhanced by a huge aerodynamic grill of the front which is both stunning and efficient. It's built for an amazing amount of performance and is ready to challenge any other sports car.
5. Chevrolet Corvette Z06
This reimagined Corvette model is as anticipated as ever. It's no surprise that it is a classic favorite among car lovers, with 650 horses worth of power. The supercharged V8 engine can be chosen in different body configurations from coupe to convertible. You can relish in the precise handling and incredible power.