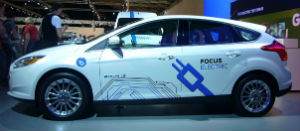 The Buzz About the Top 10 Electric Cars for 2015
If you think that electric cars are only seen in movies or are impractical, get with the program. These days, electric cars are an eco-conscious and viable alternative for car buyers. The batteries in electric cars are lighter and they can travel great distances than they did in the past. Electric cars come in different shapes, sizes, and every price range. Before reviewing our top 10, check out the last blog about what to look for in an electric car here. Without further ado, here are the top 10 electric cars for 2015.
The Electric Count Down
10. Chevy Spark EV
Coming in at number 10, this electric car features 130 hp and 40 lbs. of torque. It offers great performance and is currently available in California and Oregon.
9. BMW i3
This hatchback features 170 hp and can travel from 81 or 150 miles with an optional gas engine that extends its range.
8. Kia Soul EV
Boxy and tall in appearance, this electric car is not only stylish but practical. It features a 27 kWh battery pack. Its travel range is 93 miles.
7. Fiat 500e
This electric car features 111 hp lithium ion battery pack. It has a 108 MPGe highway rating with a travel distance of 87 miles. Read the full specs here.
6. Electric Ford Focus
With a 23 kWh on a lithium ion battery, this electric car has a travel range of 76 miles. Its EPA equivalent rating is 100 mpg. The upholstery in this electric car is made from recycled materials. Cool.
5.  Mitsubishi i-MiEV
This electric car features a 66 hp AC permanent synchronous magnetic motor. Its travel range is 62 miles and it has a 112 MPGe.
4. Toyota RAV4 EV
This Electric car features a 154 hp and an acceleration speed of 0-60 mph in seven seconds. It has a regular sized cargo space as compared to a traditional gas powered vehicle of the same make.
3. Nissan Leaf
The name is eco-conscious enough, isn't it? This electric car features zero emissions and is completely powered by a rechargeable lithium ion battery. It could reach speeds of 90 mph and has a travel distance of 70 miles.
2.  Honda Fit EV
This electric car features a 20 kWh lithium ion battery. It offers fast acceleration and charging – the latter of which takes just three hours. It has 189 lbs.-ft. torque. Its EPA rating is 118 MPGe.
Coming In First
1. Tesla Model S
Drum-roll please. The  number 1 electric car for 2015 is the Tesla Model S. With speeds of 0-60 in 5.6 seconds and topping speeds of 125 mph, this electric car turns any assumption about electric cars on its head. It contains additional perks such as Wi-Fi and a driver panel that is operated by the touch.