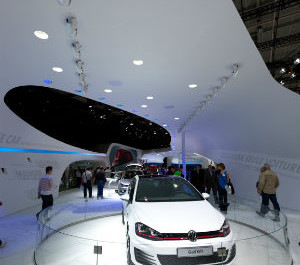 Volkswagen Golf GTI
One of the most popular budget-minded performance vehicles sold today, the Volkswagen Golf GTI will not disappoint. For over 25 years Volkswagen has offered a GTI model of their iconic two-doored hatchback and it has always been well received. The Volkswagen GTI 2015 is no exception to that rule.
This smart two or four doored hatchback has sport-tuned suspension, a supped up engine and powerful brakes. The interior and exterior trim features detailing unique to the modal. The car is both practical and sporty, a joy to drive.
Zippy and Responsive
The 2015 GTI has a turbocharged 2.0-liter engine with 200 horsepower and 207 pound-feet of engine torque. It is offered with a standard manual six speed transmission for ultimate driving control. There is an optionally offered DSG, or direct shift gearbox, option. This feature offers a dual-clutch manual/automatic transmission, for those who prefer to allow the car to shift itself at times. The car is front wheel drive, for better handling capability in any situation.
Well Appointed Cabin
Inside the cabin, the rider will feel a sense of luxury. The Volkswagen GTI standard features include eye-catching tartan fabric accents and heated front sports-style seats. Standard tech friendly gear includes Bluetooth capabilities, touch screen audio system with eight speaker surround sound and a built in iPod interface.
This is a car that can be truly personalized. A short list of the available options include bi-xenon headlights, an upgraded audio system and full leather upholstery. For those really into speed, the Autobahn Trim Kit is available. This sharp upgrade features a sunroof, unique leather seats and a keyless entry system.
A Class Leader With a Sense of Humor
The 2015 Volkswagen GTI is considered a leader in its class. While it does not possess the most powerful engine or factory standard highly aggressive high-speed tuning, it offers features such as exceptional fuel economy, a great ride, plenty of interior space and high end luxury cabin features at a great price point.
The well-earned place at the head of the pack was all of the justification the German-based Volkswagen needed for a new commercial. Right after the German soccer team took the World Cup away from Argentina, they released a cleverly made ad with their sporty GTI cars as players in a game of soccer. Naturally, the cars in German colors took the prize to a Univision inspired play-by-play commentary. Like the car itself, it must be experienced to be believed.